Description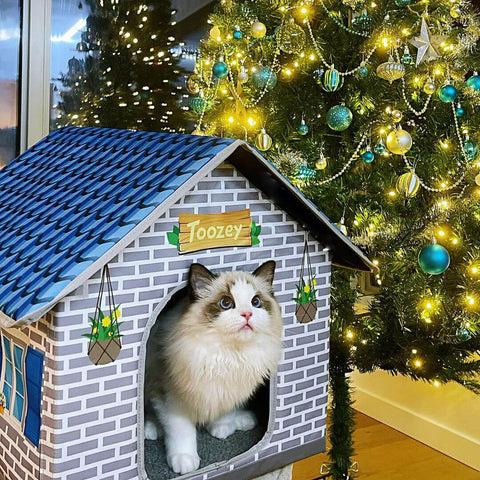 Easy To Assemble Without Tools
Toozey heated cat house is easy to assemble or disassemble in one minute with hook & loop fasteners and zippers. No tools are required. Perfect for cats and small dogs that sleep in garages, porches, barns, or even in the home.
Durable and Sturdy
Made of high-quality, durable, and insulated material. Both the roof and base are 100% waterproof. It is able to protect your pets from rain or snow, and keep them warm and safe throughout the winter.
Unique Heating Pad Design
Inside the house there is a heating pad that makes the whole space at a constant temperature all the time. Your pet will like the cozy, ultra-soft, machine-washable cover. The pad features a dual-resistant cord to protect pets from chewing. 
Perfect Gift
This convenient and durable heated cat house is a great fit for cats and small dogs. It has two doors with transparent door flaps to make sure your cats never feel they are being locked up. In this cold winter, give your furry friend a warm space of its own.
What's in the package
A cat house, a heated pad with a 59" chew-proof cord, a 3M extension cord, and two door flaps.
Specifications
Model: B08G7YPHPC
Package dimension:
   S: 17.76″ x 13.82″ x 5.16″
   L: 22.5″ x 18.5″ x 2.75″   
Weight: 5.56/ 6.8 pounds
Pet Type: Cats, small dogs
Payment & Shipping
Free shipping on orders over $25
Arrive within 14 days
Free Returns